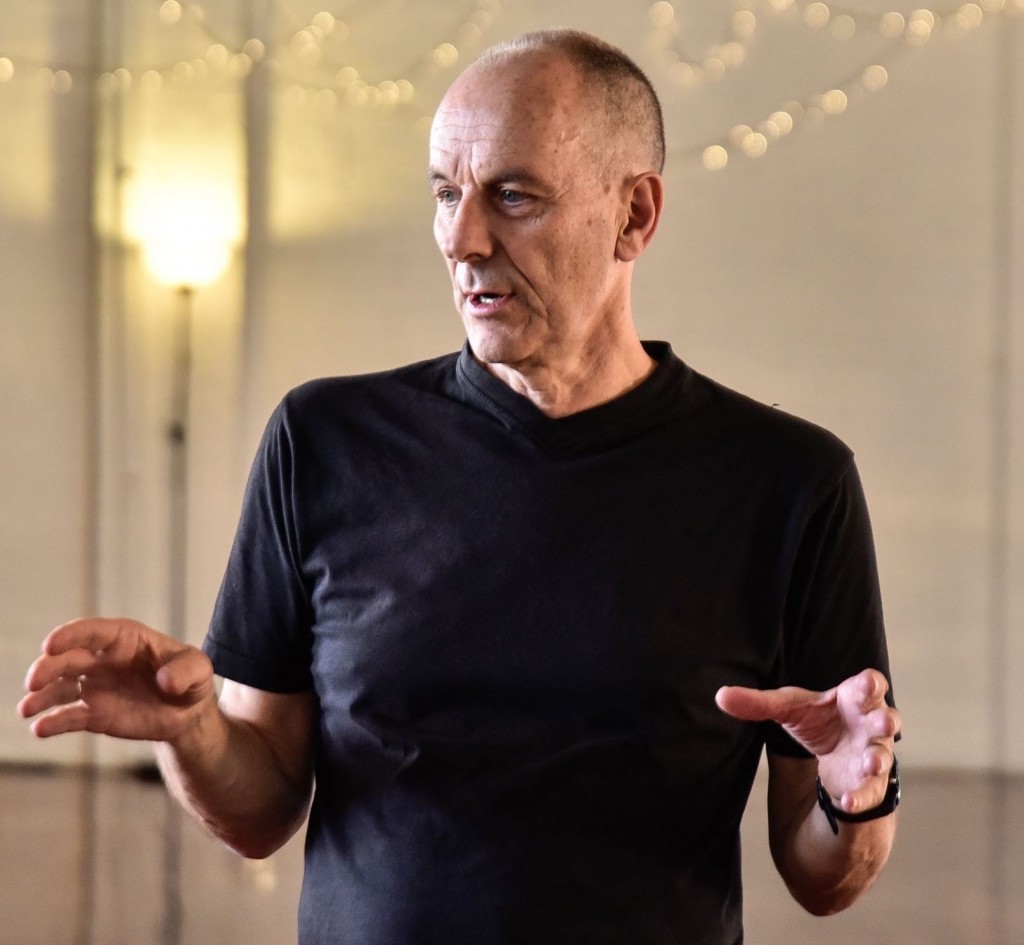 2023 is the 22nd year of leading workshops in Sydney and I am still fascinated and challenged by the process. 2021 was a difficult year with 2 series and a 3 day workshop cancelled and the closure of the Glebe yoga studio where I had run the sessions for all that time. In 2022 I made Readymade Studios in Ultimo my new base for workshops and practice.  Over the last 22 years I have helped hundreds of people to build their confidence to speak or move and to do so in a variety of settings. Many artists from different disciplines have also attended the workshops over the years to either add performance to their existing skills or to refresh or find their particular style or mode of performing. 
For insights into improvisors' processes have a look at The Improvisor's Podcast (link on the video page)
Next event is a 3 day workshop, details below the image.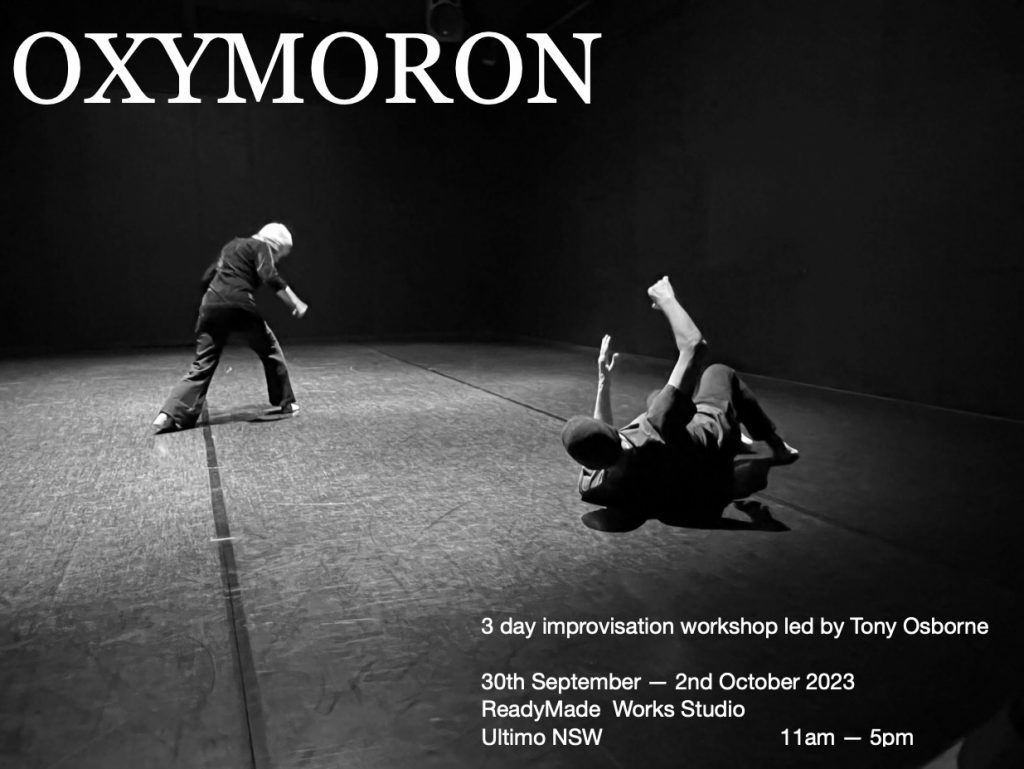 Image by Anna White — Tony Osborne & Noelle Rees-Hatton in performance at Precipice, Canberra, August '23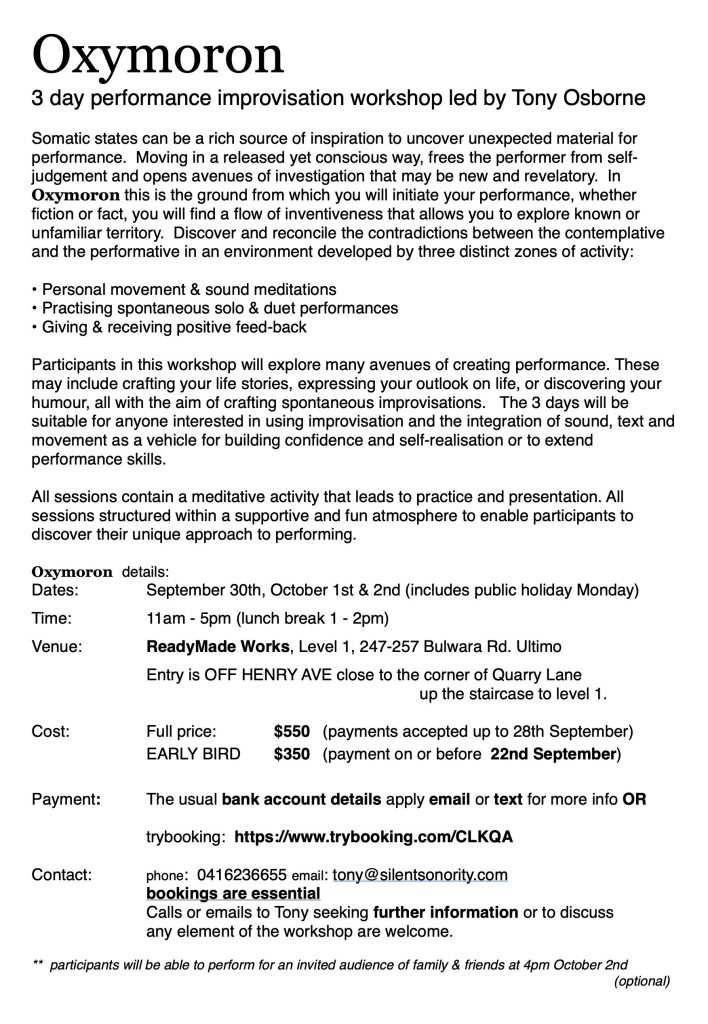 TryBooking link here                         Meet me & my work  here
FEED BACK FROM PAST PARTICIPANTS

Thank you so much for  a wonderful four days of workshop.  It was great fun and quite challenging.  I feel quite different still from the workshop and in a good way.  Thanks again and look forward to the next iteration.  
Alison, Blue Mountains
It was a pleasure for both of us to take part in your workshops. I always described it to people as part improv and part meditation, as you allow so much space for development and reflection, I always came from the Friday afternoons feeling rebalanced and refreshed. It has really opened my eyes to the process of learning and self development, in particular with the gentle and non-judgemental process you employ. No wonder you have people coming back for years. I enjoyed myself tremendously and feel I made huge strides toward my own goal of releasing myself from the tyranny of my own self critic and allowing myself the freedom of improvisation in flow. This was of course enabled by your framing around positive experiential feedback, allowing me to engage with that critic without having to respond to external criticism. Like everything that is done well it sounds simple, but I am eternally grateful for the mastery of your craft.  – Steve, Sydney/Berlin
I did want to say how much I enjoyed the workshop on the weekend. Really enjoyed the provocations you threw out and the influence of the writing felt like it grounded me. So thanks – it was a very rich weekend and was some great improvising within the group.  – Michael, Sydney
For the first time in my life I actually have combined skills and experience to do what I like and what I want to do and I thank you from the bottom of my heart for "you being you" and letting me into your workshop, and last of all for actually teaching me things and encouraging where most of all in my life, many professional artists have been very cruel to me, but not you ….… That is truly EXCEPTIONAL in the truest sense of the word and I can only say thIs; thank you, thank you for the gift of the golden thread.
(Sydney participant, name witheld)
Your classes have been a highlight of my year.  I reckon 12 years I've been training with you now!!!  Isn't it crazy?  You've been a huge influence on my life and practice. So, much love and respect – thank you!! – Nadia, Central Coast
I have been attending Tony's workshops for about 12 years. Through the years, I have attended these workshops when I feel I am growing into a new phase in my life. Tony's workshops have helped me to understand myself and who I can be.  He creates such a safe and supportive environment to explore our creative selves. I have never come across anything quite like it in the creative arts. I just can't get enough. Thank you Tony! – Daniella
Love your Improv Training ,Tony. It's the best! It's one of the few things I miss now that I'm living in Adelaide! Your students are sooooooo lucky to have you! — Ann
I found your teaching to be a very high standard – a good combination of structure and following the flow of the class and you held the space well to provide an atmosphere where I felt safe and able to open and experiment. – Fiona (Sydney)
………..
Follow these links for Lisa Roberts' comments and sketches done in and about the workshops see HERE + HERE